Windows XP SP3 (Service Pack 3) and Office 2003 will go out of support on April 8, 2014. That's just under two years away, and it may seem strange that we are warning you so "early." But, according to Microsoft, " if your organization has not started the migration to a modern PC, you are late."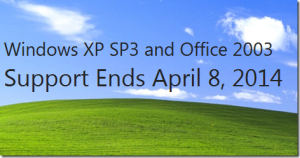 Microsoft, with quite a bit of data on such things, has found that average deployment of a new operating system across an entire enterprise can take 18 to 32 months. This average is probably more applicable to much larger companies than are most of our business audience. But, making the leap from 10-year-old Windows XP and Office 2003 to the very latest Windows operating system and Office suite will be more time-consuming than you anticipate. That's why we urge you to begin planning now!
Why even bother, you might ask. You and your employees are comfortable and efficient using familiar old XP and Office 2003. But, after April 8, 2014, there will be no new security updates, free or paid assisted support options or online technical content updates.
Running Windows XP SP3 and Office 2003 after that date can expose your business to risks, including:
Security & Compliance Risks — Unsupported operating systems are vulnerable to security risks. If your company is subject to any sort of audit or certification body, this could also lead to suspension of certifications, even public notification of your inability to maintain systems and customer information.
Lack of Independent Software Vendor & Hardware Manufacturers support — A recent industry report from Gartner Research suggests "many independent software vendors are unlikely to support new versions of applications on Windows XP…" Gartner Research also noted that most hardware manufacturers will stop supporting Windows XP on the majority of new PC models. The end of software and hardware support for Windows XP is already beginning, two years before the end-of-support date. You may not be able to get the latest update for a mission-critical software program your business depends on!
We recommend that you take steps now to get current with Windows 7 and Office 2010. Remember, there are actually some benefits to making the leap. Windows 7 and Office 2012 offer features that will allow your business to take advantage of the latest technology and become even more efficient.
What's the first step? Small to medium businesses should work with a Microsoft Certified Partner, like Invision, to understand the best options that will fit their needs. If your company's current PCs meet the system requirements for Windows 7, we can help you purchase and install it. If your PC does not meet system requirements, we will help you first configure the systems that best fit your needs and budget.
Related Posts via Categories