PUT DOWN THE KEYBOARD. BREATHE. CALL US.
Outsource Your IT Management. You'll Wish You Had a Long Time Ago.
Invision is a Kansas City IT services business that knows successful partnerships require direct and open communication. Unlike many IT support companies, we speak in a language clients understand. And while we've been handling technology management for a very long time, we still keep pace with the most current technologies and systems. So if something's not working or meeting your needs, count on us to repair or upgrade it, helping you stay ahead. That's what a good partner does. Our outsourced IT management plans are fully customizable and scalable.  Our most popular starting points include:
Invision NetMedic
On-site IT service for solving those occasional technology glitches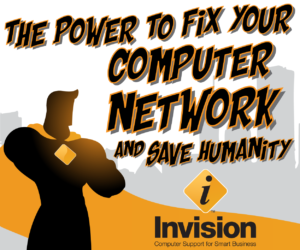 Business computer network not feeling quite right? Just like the name implies, simply call your Invision NetMedic! Designed for businesses suffering from occasional IT glitches and service needs, Invision NetMedic is your on-call IT doc. When a problem occurs, an Invision technician will make a "house call" to your business, efficiently diagnosing and repairing your network or server. NetMedic IT service frees up the time you'd normally spend dealing with internet, server and network problems so you can focus on better things. Sick network? Call us today!
Invision NetTuneUp
Regular preventative server maintenance and convenient,
flexible remote IT support
What's the best way to prevent a network-wide epidemic of catastrophic proportion or just the occasional system hiccup? Get a regular "NetTuneUp". The Invision NetTuneUp service plan is designed for small networks that may not require regular on-site maintenance.
NetTuneUp combines preventative IT service with the flexibility of remote support, which allows Invision to wisely manage your server via the Internet. Once a month, an Invision technician will connect to your server and go through our 50-point server maintenance checklist. We'll alert you to potential problems before they occur, and offer a proactive solution when necessary.
Following each NetTuneUp service, you'll receive a complete report of your network's health. Schedule your NetTuneUp today. Don't put off getting your network's clean bill of health.
Invision NetServ
Top-tier service and maintenance ideal for demanding networks
The diamond standard of Invision services, NetServ is designed for companies that require frequent IT service and a higher level of attention. The NetServ network maintenance service is offered on either a weekly or bi-weekly basis. In addition to the benefits of a professionally maintained network, the NetServ Agreement includes:
Regularly scheduled visits
Reduced rates for NetServ clients
No travel charges
Your very own assigned, highly-trained IT technician
50-point NetServ checklist that helps diagnose issues early to keep servers operating smoothly
Regular workstation maintenance and updates
No additional charge for after-hours work
Contact Invision today to discuss your custom IT management solution.  We support companies all across the KC metro, from Olathe and Overland Park to Shawnee and Mission; from The Plaza and Westport to Independence and Gladstone (and everywhere in between). We're a local IT company that provides world-class technology support.  The partner you need is just a click away. Check out our intro video below: