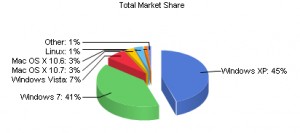 What? Hasn't Windows 7 been number one for a long time? Nope. Windows XP is still the most common operating system (OS) for the moment, but Windows 7 is about to catch up, finally, according to a May survey by NetApplications. Especially since support for XP will officially expire in less than two years.
So why has it taken so long for the newest OS (not counting about-to-be-released Windows 8 ) to overtake a very, very old Windows XP OS? Because it's a pretty big deal for businesses to make the migration from one to the other. Have you made the migration yet? If you are an enterprise, it's high time you planned to make the switch. Contact Invision for professional assistance with that!
Image credit: NetApplications, which conducted the survey cited in the article.
Related Posts via Categories
Disconnect from IT hassles.
Connect with Invision.
Don't Miss: