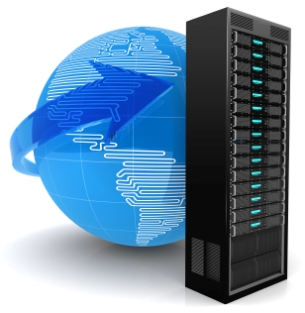 A scary number of desktop workstations masquerade as servers in the business world. Yes, workstation-class computers can be used as servers, but they are not meant to take on this role—a crucial one for businesses that should not be underestimated. The scary thing about workstations acting as servers is that when your server is not really a server, your business, data and productivity are on the line. If you're currently using a desktop as your server, even a top-of-the-line model, it's only a matter of time before a failure could spell catastrophe for your business. Between lost productivity, data and recreating all of your files (if that's even possible from a backup), you could be out tens of thousands of dollars. And while you might be thinking to yourself, "Oh, nothing has gone wrong with my workstation/server before," as local IT experts, we strongly suggest not falling victim to such complacency.
What is a "real" server anyway?
A real server is designed and manufactured to operate 24 hours a day, seven days a week for years. Servers are built with extra fans designed to dissipate heat generated during usage…a lot of usage. While desktops have fans too, they are not designed to handle the level of heat that servers fans are. Without proper cooling, internal workstation components overheat and fail. And there goes your data until your workstation is brought back to life, if it can be revived at all. If you are using a desktop as a server, you should back up data elsewhere so it's retrievable after a failure.
A real server has redundancies built-in to survive hardware failures. All hardware goes kaput eventually. They are machines and no machine lasts forever. Manufacturers design and build servers with this in mind. Servers are designed with redundant hardware to allow them to continue to perform functions in the event of common hardware failures. The most common being hard drives and power supplies. In the event of a hard drive failure, a true server continues to operate until the failed drive can be replaced. A true server will also have redundant power supplies (look for two power cords on the back). If one fails, the server keeps running until the failed component can be replaced. In better systems, hard drives and power supplies can be 'hot swapped;' replaced without even shutting the server down allowing repairs to be made with no downtime at all.
Relying on a workstation to do a server's job is like expecting a Fiat to pull a semi trailer. The decision on whether or not to invest in a real, dedicated server depends on your tolerance for downtime. If your business won't be negatively affected by a few days of down time or losing and reconstructing all of your data, using a workstation as a server will do. But in today's competitive marketplace, your data can be your currency. Productivity can be your edge. And smart business needs a server designed to handle your workload in ways workstations simply can't. If you need external help with this, it may be worth looking into how a Least Privilege server can benefit your business and system, ensuring you won't have issues with a server dropping.
Still not sure what is right for you? Contact the server management professionals at Invision. We specialize in helping smart businesses make the right IT solutions.
Related Posts via Categories