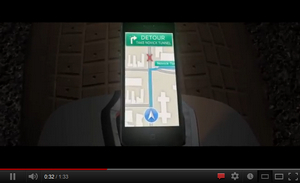 Apple's newly released iPhone 5 has been lauded by critics and fans alike for its many new or improved features. But in an attempt to cut the cord to tech rival Google's mapping feature, Apple introduced its own proprietary mapping app on the iPhone 5.
And that has proven a rare misstep for the company that seems to do no wrong in the eyes of many analysts and consumer fanatics. Some roads have turned up missing and one airport was moved to an entirely different country.
Okay, so the few flaws have been pretty dramatic. And because Apple really doesn't mess up very often, perhaps that's why this series of parody videos was created. All feature a famous movie scene alternate universe where the character has to rely on Apple's maps.
Have fun watching these, but we expect the issues will be cleared up soon enough, and that for most people Apple's new maps won't have them driving through a mall.
Related Posts via Categories