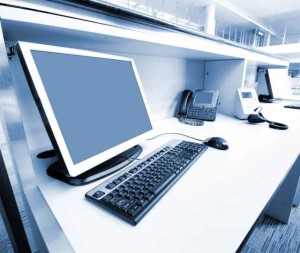 We talk to Kansas City business owners every day. Their IT needs don't vary that much, but the scope of their IT and computer repair needs do. That's why Invision offers a unique selection of onsite or remote solutions for your business, with same-day solutions, professional customer service, and the goal of resolving your IT issues on the first call.  We've become Jackson County's premiere IT consulting firm due to our focus on the needs of each individual customer. From server installations and regular maintenance to networking and  remote access creation, our tenured IT consultants will find the solution that is right for your business. It doesn't matter if your business is in Kansas City, Independence, Lee's Summit or even on the Kansas side of the state line. The business computer repair specialists you're looking for are just a phone call away!

Invision offers a wide range of IT support and computer support options, including:
Workstation Support Services
Server Installation & Maintenance
Office & Network Relocation
Network Security Solutions
Mobile Device/Tablet Support
Remote Access &Telecommuting
Virus Protection and Removal
Wireless Setup and/or Cabling
The bottom line is this…we're the information technology partner for smart business in and around Kansas City. We're also the preferred IT solution for small business all over Jackson and Johnson County. Our IT support and business computer solutions are cost-effective, timely and scalable. Our proprietary NetTuneUp service plan is a great example of the tailored solutions we offer area businesses. It's a solution that makes sense for any small network, especially if it doesn't warrant  a regular or recurring on-site visit. We combine preventative service with the added benefit and flexibility of a remote support option. Every month we'll connect to your server and complete our 47-point server maintenance checklist. We'll alert you of any potential problems before they happen. Our main goal is customer satisfaction… and our secondary goal is to prolong the life of your business computer and office IT equipment. This helps to defer costly upgrades or replacements. We ensure that your email, antivirus, server and desktop environments are always in working order and completely up-to-date.
At Invision, we understand that downtime is measured in dollars. That's why our IT consultants and business computer repair experts are committed to remaining technology experts. If you're interested in learning more, or if you have an IT related issue, please contact us today via the form in this link. A smart business decision is just a click away!
Related Posts via Categories