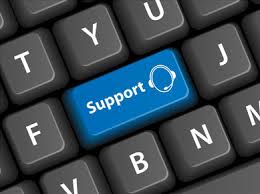 Small business IT support comes in two varieties: onsite and remote. And any business owner who has experienced a major IT crisis will be the first to tell you that having resources for both is an invaluable aspect of any business IT support plan for example similar to this IT support in Bath service. However, all too often, businesses find themselves in a pickle when their only option is remote support.
Don't get us wrong; remote support is a godsend for many companies. After all, is there anything easier than picking up the phone and having a technician walk you through diagnosis or repair? For some issues, remote support is all that is necessary. The key word there is "some," but definitely not all.
At one time or another, chances are your business will require a good old-fashioned house call from an expert in order to get you back up and running again. Take hardware failures or server problems for example. Remote technical support relies on the user being able to boot up and log in to the computer, as well as have a basic understanding of server-side configuration. Firewalls and network switches can also inhibit your ability to log in … and if you can't log in, neither can your remote IT support person! Onsite business IT service-a tech standing right there in the room-is the only way to recover from a hardware failure or other critical issue. However, some companies do not have access to their own onsite IT support so seek help from an off-site IT Consultancy to help with any IT support issues they encounter.
Internet access must be available to take advantage of remote IT support as well. Whether loss of Internet access is on your side or your provider's, it still prohibits remote support from reaching your ailing system. If your Internet provider cannot detect any service problems to your business on its end, then onsite support is your only choice. If you are encountering problems with you Internet provider, however, perhaps it's time to look elsewhere. This Melbourne internet provider is one to look into if you're thinking of switching.
Computer viruses are another issue, and they come in many shapes and sizes. The worst viruses will even try and shut down your security software. Sneaky, huh? It's nearly impossible to cure a virus via remote IT support because the system must be booted in SAFE mode, which requires onsite tech support since it's beyond most people's scope of computer knowledge. Keep in mind that you most likely don't want your employees taking the drive out of their computers and installing it in another clean system to ensure it's not booting from an infected drive. If you have employees capable of this level of troubleshooting, you're probably not reading this anyway!
For some remote tech support companies, virus removal means shipping your computer to them. Really? Who has time to package up a computer? Who wants to pay that shipping cost? And who wants to risk further damage during transit or wait around for days as your computer is shipped, repaired and shipped back? Especially when an onsite IT support solution can get you back up and running on the spot-literally.
The key to fast and reliable business IT support is choosing reputable IT services in San Antonio (or wherever you're based) that offers both onsite and remote service-one company that understands your business systems and is available whenever and however you need. Technicians who don't have to start at square one every time you call. No repeating yourself over and over again. It's also important that your partner doesn't force you into bundled cloud based technology services.
Need help reviewing your business IT support plan? Contact us today and one of our technicians will help walk you through the process.
Related Posts via Categories