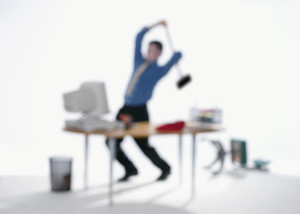 The three fundamentals of IT Planning
When you're running a small to mid-size business, you're not just the CEO, too often you're also the CFO, CMO and janitor. Without IT support, you can add IT planner to your resume because without the help of a solid information technology strategy, you'll spend more time doing damage control than business. So here are a few hard and fast rules to keep your office humming and keep your mind on business instead of being constantly distracted by the very technology you use to stay productive.
When is old too old? Keeping and replacing your hardware
Sure, shiny new equipment may temporarily raise the moral of an employee or two. It may even score you points with a visiting customer or client. But there are times when keeping up with technology is about much more than simply keeping up appearances.
Plan on replacing your servers every five years. Here's why. Servers and computer networks aren't built to last longer than half a decad e. Manufacturers stop making replacement parts and setting similar time limits on their warranties.
Technological term limits on laptops and workstations also hover on both sides of the five-year mark. Much of this depends on use.
A laptop that's in heavy use and frequently goes on the road will probably stop performing at its best in as early as three years. Workstations that are kept in a stable environment can easily churn away for up to five years. You may even be able to get to six years of use before maintenance and computer help will cost you more than replacements.
Printers and monitors aren't really a factor with age. Replacements will be needed when they finally stop functioning completely or a new bell or whistle will be too enticing to pass up.
So servers and computers are like a car – eventually it will cost more to maintain them than to buy a new one. Printers and monitors are more like toasters – you'll get a new one when you have to or when you want to, whichever comes first.
Just like a cop. You always should have back up.
Backing up your information is vital. It will save you time, money and headaches. Maintaining your backup systems is just as critical. Remember, backup technology is not a purchase, it is a strategy. Your backup system needs to be monitored to ensure the data – and the right data – is being captured.
Security can go out of date faster than runway fashions.
Much like your backup systems, security is a plan not a purchase. Your operating systems (OS) and drivers should be kept up to date. Those patches and upgrades are being sent to you for a reason. Use them. New bugs and viruses are being hatched every day and when you buy security software you're buying an ongoing service as much as a product.
Still have questions about IT services available from Invision?  Contact us today.  The technology partner you need is just a few minutes away!
Related Posts via Categories