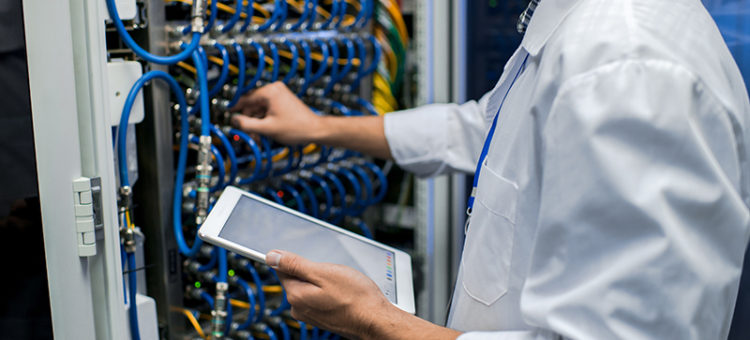 Using Business Tech Support to Safeguard Your Company from Network Trouble
By Chris Brandow, Invision Partner
You've started your business; worked out your finances, bought insurance, and set up a virtual office from places like www.yourvirtualofficelondon.co.uk but now your technology is playing up. Every business will be plagued with computer problems at some point, ranging from data-destroying viruses to full-scale hardware meltdowns. Even though computer issues are inevitable, the damage done and productivity lost can be kept to a minimum with the right business tech support services. An IT company in Kansas City, like Invision, can help you avoid certain types of problems and help your business run smoothly.
Here are a few of the most common ways business tech support helps avoid costly downtime and protect your valuable data.
Your Anti-Virus Program is Kept Top of Mind and Up to Date
Anti-virus programs are ubiquitous. Just as ubiquitous as installing and forgetting them. An outdated anti-virus program is no different than not having one at all. Even if your system included a pre-installed program, consider how long ago you made that purchase. If you bought it three years ago, your anti-virus program probably expired approximately two years and nine months ago, which means your business isn't protected against the thousands of new viruses that have come out since. Most pre-installed anti-virus software only allows you to get updates for 90-days without purchasing a longer contract with the company.
Business tech support services can include anti-virus software monitoring, taking the pressure off you or your team to remember to update it on a regular basis. Keeping an active anti-virus program in place won't stop all cyber threats and hacks, but it does a better job than an outdated or expired one.
External attacks from Crypto ransomware can cripple a business if allowed to run free on your network. If your company comes under attack, hopefully you have reliable backups to fall back on and get your company back up to speed.
Your Data is Securely and Regularly Backed Up So Disasters Aren't So Disastrous
Setting up data backups is one of the first things Invision does for our clients as their business tech support.
For example, if Crypto ransomware wipes your network and is now holding your data hostage, you hopefully have reliable backups that are ready to get you back on your feet. Having business tech support experts regularly checking your backups is the safest way to make sure that you have multiple copies of your business-critical data ready when needed. Having more than one type of backup is even safer. Multiple backups give you peace of mind that if hackers or malware attacks, your data is safe and sound.
In the case of a facility issue, Mother Nature or act of God, having a business tech support firm ensure you have backups available offsite means your company can get back up and running faster.
You're in Compliance with the Latest Credit Card Standards
If your business accepts credit cards as online payment for goods or services, then you must be compliant with the latest privacy standards that protect consumers' private data. Any server or any system that holds or passes customer data through it should be secure from physical access, as well as secure on the electronic front. As these standards evolve, you're responsible for staying in compliance with them.
Making sure the proper security protocols are allowed and the outdated and exploited ones aren't is another area that your outsourced tech support company can help you verify and maintain. People will often go to this site to ensure their web services and other systems are tested for compliance and operation purposes to assist their customers. If sensitive customer data is stored on any equipment your business owns, it should be encrypted to prevent that data from being easily copied and sold or worse.
Your Hardware Will Eventually Fail and You Must Prepare for or Avoid It
More often than not, there are certain warning signs indicating when hardware devices are beginning to fail. Signs that, if someone is watching for them, could be signals to replace that hardware before complete an utter system failure.
Preventative maintenance is something that should be included in your business tech support services. Some hardware can run software that indicates imminent problems before they become a "system down" event.
Some hardware should be replaced on a regular basis due to its age. If a piece of hardware can take your entire operation down, it is probably worth maintaining a support contract or replacing every so often to ensure its integrity.
Keep Your SSL Certificates Current
Websites and servers similar to what M247.ro host use an SSL certificate. Think of it as the S in HTTPS. The padlock that appears in the search bar when you visit a secure website lets you know it's a secure site. In July 2018, Google will begin showing a warning message when visitors click on a URL that does not have a valid SSL certificate. That warning message alone could be enough to scare away would-be visitors from your website.
If your business uses any system that requires an SSL certificate, you need to renew and possibly upgrade that certificate as time goes on. Maybe the one you had six years ago isn't sufficient for today's needs. Maybe it is about to expire and no one in your company knows how to go about renewing it.
Your business tech support firm will help you renew that certificate or upgrade it to a newer standard that not only helps you with compliance, but also gives your customers confidence that you are a company that cares about protecting their information.
Worried About Your Computer Network?
You can't possibly prevent all disasters. But keeping an eye on your computer network is paramount to your business. With Invision managing your IT tech support, even if a disaster happens, mitigating the time your system is down is crucial to keeping your business running smoothly. Contact us today to keep your computer network safe and running at full capacity.
Related Posts via Categories