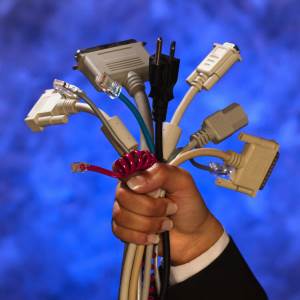 In an age when we're always connected wherever we go, it's become obvious that not all Internet bandwidth is equal. The Internet bandwidth you have at work is different than what you have at home. Once upon a time, business Internet bandwidth was far superior to what was available on your home turf. That's not the case anymore. Today home Internet bandwidth surpasses speeds found in most offices.
How did that happen? Coax cables were once exclusively used to bring cable television into homes. Transmitting only cable television signals was a waste of perfectly good bandwidth. Even the biggest couch potatoes watching TV on 4 different televisions could not come close to using the coax cable's capacity.
The cable companies saw an opportunity. By not using this capacity to its fullest, cable providers were not profiting as they could. So…cable companies began using these same coax cables to deliver Internet service too. Now these coax cables could run at full capacity and they could charge for Internet connection as well.
If it seems like your home Internet bandwidth outperforms your business, it's probably because it does. When we're out on business IT support calls, we hear this complaint a lot.
Why aren't home and business Internet bandwidth performing similarly? Even though the bandwidth MB is the same, it's the users that impact performance and speed. At home, that Internet bandwidth is being shared between those in your immediate household — a handful of people. Work environments have tens or hundreds of employees using that bandwidth, which slows it down tremendously.
It's time to upgrade your office's Internet bandwidth if you notice any of these signs:
Web pages load slowly
Downloads don't fully complete because your connection is saturated. The server thinks you no longer want or need the file or you've gone offline so your request is cancelled
If you don't host your own email, mailboxes do not finish synchronizing or the email program reports errors because the initial sync can't complete before it attempts to receive new messages
Web forms submitted aren't sent successfully, instead a time out or error message is receive or the page never comes back
Take it from business IT support specialists that help customers deal with Internet bandwidth issues on a daily basis. Slow connections aren't just frustrating; they drain productivity and profitability. Money spent on upgrading your business's Internet bandwidth is an investment in your business and money well spent.
Want to learn more about bandwidth and it's impact on your business?  Contact Kansas City's best IT consulting group today.
You might also be interested in: