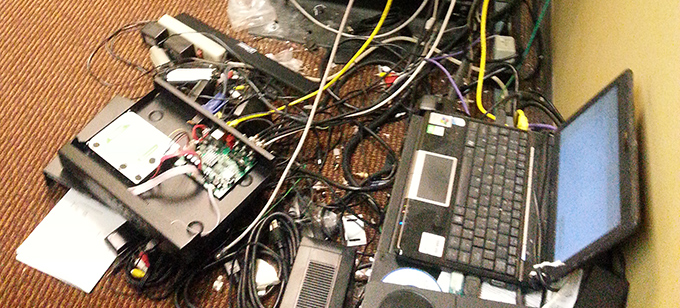 Delivering Stabilizing, Outsourced IT Tech Support After In-House Tech's Unexpected Departure 
The Client: Bill Barr & Company
Overland Park, Kansas-based Bill Barr & Company, a sales representative agency, was founded in 1956 and currently employs 17 people. This business has done big things for the animal feed, pet and companion animal food, and pet treats industry.
In the 1950s, progressive nutritionists were looking for ingredients that best balanced the nutritional components of the commodity ingredients in use at that time. As the industry grew, the level of nutrition improved as these feeds and foods became more sophisticated, and Bill Barr & Company expanded its service for customers to include the distribution of critical ingredients, as well as their representation.
Bill Barr & Company is proud to be on the leading edge of new ingredients, providing only the highest quality ingredients that add value to their customers' feed, food and treat formulations. All manufacturers represented by Bill Barr & Company share this same commitment to quality and exceptional customer service.
Like many businesses, Bill Barr & Company relies heavily on its computer network and software to keep its business and service running smoothly.
The Situation Prior to Outsourcing IT Tech Support to Invision
Bill Barr & Company had an in-house IT technician. He built the company's computers from scratch and developed many of the software programs on his own. This in-house tech support person was the architect of Bill Barr & Company's entire computer and network system. He held all the passwords and all the knowledge of how everything worked in silo and together. The hardware and software worked well, and when it didn't he was there to fix it.
The Problem: One Person
Eric Arnold joined Bill Barr & Company as general manager in 2013. "My second day on the job, we learned the consequences of one IT technician having control over our entire IT environment – from the computers themselves to the software on which we run the business down to passwords to even get into business-critical systems," says Eric.
The company's in-house IT person departed suddenly under unexpected circumstances. Eric, along with the entire staff, realized they were at the mercy of an IT tech who was no longer there. In a sense, he took the keys to the company's computer kingdom with him.
"Overnight, we found ourselves in a lurch because we were not in control of our own systems. We had trial versions of software expiring and no idea of the passwords, which was just one of the many problems we were going to have to face and correct," explains Eric.
This is a common scenario that many business owners and managers find themselves in. It's natural in a business environment to leave the tech support work to one person. However, problems arise when that one person becomes the company's "hit by a bus" IT person and when he or she is gone, so too is the tech support knowledge required to carry on with business as usual.
The Solution: Invision's Outsourced IT Tech Support Services
Rather than scrambling to hire another in-house tech support technician, which potentially would leave the company at risk for this happening again, Eric decided to outsource IT services. He chose Invision for outsourced IT management, IT consulting, and hardware and software.
"We called Invision in crisis mode. They were on-site quickly and were able to stabilize our systems and network. Once the immediate threat was handled, their tech support services team developed a 90-day plan to replace our server, computers and software that were reliant upon one person's expertise with others that could be maintained and updated by anyone with IT support knowledge," says Eric. "Invision did a phenomenal job of getting us back on track again."
Five years later, Bill Barr & Company still outsources their IT management and support to Invision, whose IT technicians are on-site every two weeks to check the company's server and other critical IT components, along with addressing any immediate needs.
"We're old-fashioned in that we like to meet face to face with Invision's business tech support experts, so we can bounce ideas off them. They really understand what our business is, so we trust what IT solutions they recommend to fit our processes and help us reach goals," explains Eric.
For example, Bill Barr & Company is in the middle of implementing a new document management system. The company's stakeholders narrowed their choices down to a few and asked Invision's IT experts to provide feedback on the pros and cons of each based on what they know about the company's IT platform as a whole.
Eric says, "It doesn't hurt that our outsourced IT tech support service is a mile down the road from us. Invision's team has always been responsive and can be here quickly when needed. While we like and trust our Invision IT technician, we know redundancy is there, so even if he 'gets hit by a bus,' Invision can still give us excellent service."
A Team of Outsourced IT Tech Support Experts is Better Than One
Small business owners and managers, like Eric, can't afford to put their operations at risk by relying on one person to understand their business and ensure the appropriate technology solutions are in place and maintained.
Contact us to set up an appointment to talk to our IT specialists and see how we can add redundancies to your business to ensure it continues as usual no matter what happens.
Related Posts via Categories