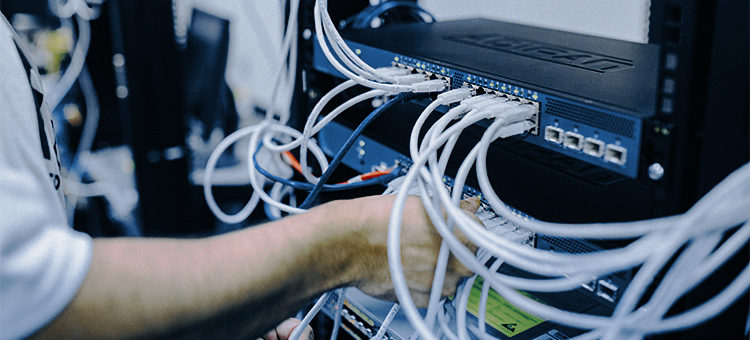 If you've been on the fence about outsourcing IT support for your business, no wonder. After all, the pandemic has changed how and where many of us work. Those changes, in and of themselves, might necessitate outsourcing your IT support to ensure your remote workforce remains connected and productive. Then there are budget considerations to weigh. Add in any special needs your business, industry or employees have, and the decision between in-house or outsourcing IT is difficult to make.
Put the coin away. No need for a heads or tails toss-up. We'll cover the benefits of outsourced IT support and how to find the best provider for your business.
Outsourced IT Support Expands Expertise to Which You Have Access
First of all, a lot is riding on your technology. Therefore, it has to be optimized for your business processes, from sales, accounting and customer support to production and manufacturing. Your technology also must be reliable. As much as we all rely on technology today, the consequences of it being "down" can be frustrating and detrimental. So, to support your technology, it might seem as though bringing an IT support person on staff full time is the safe decision.
In theory perhaps, but not in the real world. There are few technology experts who have a broad range expertise in all areas and are willing to work 24/7/365. If you do happen to find one of these unicorns, salary alone will range upwards of $70,000 and more with benefits. If you have a larger business, one IT employee may not be able to manage the workload alone, which adds to your payroll. For most businesses, outsourcing this position makes operational and financial sense.
Outsourcing IT Functions Keeps Support Costs Under Control
Some Kansas City IT services charge a flat rate per month based on a contract agreement that details which services are covered and rendered. That might help with budgeting, but it also can lead to you leaving money on the table. What if you don't need or use all the services you pay for in the monthly fee?
A better solution is managed IT services that are tailored to your business. Our outsourced IT support plans are fully customizable and scalable to include:
Invision NetMedic
On-site IT support service for solving those occasional technology glitches.
Invision NetTuneUp
Regular, preventative server maintenance and convenient, flexible remote IT support are key to your outsourced IT support.
Invision NetServ
Top-tier service and maintenance ideal for demanding networks.
Outsourcing IT Support Can Lead to Better Cybersecurity
Cybersecurity is top priority for all businesses since threats become more sophisticated and frequent by the day. There is a misconception that smaller businesses are safer from hackers because they are "small potatoes." On the contrary, because smaller businesses have fewer resources to defend against cyberattacks, they are prime targets.
The value of cybersecurity to all businesses cannot be underestimated. Your company's digital assets must be protected from a breach, not only because your reputation is at stake, but also there can be compliance and industry standards that must be followed. Depending on your field, data and network security can be time-consuming, requiring a forward-thinking technology expert who can put best practices in place and update them as needed.
READ MORE: How an IT Security Assessment Identifies and Mitigates Cyber Threats to Your Company
You Gain Peace of Mind Knowing Your Technology Truly Supports Business Growth
Outsourced technology experts work in a wide variety of industries, platforms and solutions. What is implemented and learned elsewhere can be applied to your benefit. Your outsourced IT support company should bring technology ideas and solutions to the table, so you can make them part of your overall business growth strategy. On the flip side, you also benefit from others' mistakes. Working in IT day in and out, means your outsourced IT support company can steer you in the right direction when you need a solution, not guesswork.
What Should You Look for in an Outsourced IT Provider?
You've come to the conclusion that outsourcing your IT support is worth pursuing. Keep in mind that the benefits you gain are dependent on the quality of the IT managed services provider you choose. Here's what you should insist upon from your outsourced IT firm:
IT Experts Who've Been Around the Block
Unless you're a startup business and require a certain level of brainstorming to establish your technology, ensure the tech support team has real-world experience in the hardware and software your business uses. This will ensure your problems can be solved quicker, and quicker solutions result in fewer billable hours to save you money.
A Willingness to Learn "Your World"
While there can be similarities in technology, your outsourced IT tech support person shouldn't assume your business processes and the role technology plays in them. Your potential outsourced IT support staff should be excited to learn about your business and goals, plus they should bring ideas to the table on how technology can support both. It's one thing to fix IT issues. It's another to offer a strategy to grow or make your business more efficient.
Remote IT Support is a Given
Especially in today's work-from-home environment, having remote IT support as an option is a given. If your outsourced IT support can't login remotely to your technology, give that provider a hard pass.
READ MORE: Remote IT Support Strategies and Tools for Working Remotely
Fast Response Time
You know the panicky feeling when your email isn't working or internet goes out. And, when a more serious technology issue threatens your digital security, sales and/or productivity, you can't afford to wait. Your outsourced IT support should treat every request as an emergency.
Scheduled (and emergency) services can be the right solution for absolute peace of mind that all aspects of your business's technology are supported professionally, quickly and right the first time.
Contact Kansas City's best IT consulting group today.
Related Posts via Categories