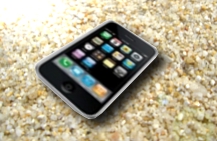 Here's a very timely set of tips on how to help your mobile gadgets beat the heat and survive at the beach. Among the tips, some should be pretty obvious; others less so:
Don't leave that device in direct sunlight!
Store it with an ice pack. Really. Read the article for instructions on keeping it dry , though!
Don't take it with you. Leave it behind in your air conditioned house/office/hotel room. It IS an option, even if being without a phone is unthinkable for some people!
Recall how uncomfortable you've felt when you've entered your hot car lately? That's how your smartphone, laptop or tablet feels, so don't leave these in your hot car. Most of these mobile devices are designed to shut down when they get too hot, but prolonged heat could damage them and even lead to data loss.
Keep those gadgets cool during this heat wave, and maybe they'll return the favor. Check out these 7 ways technology can help YOU stay cool this summer.
Related Posts via Categories