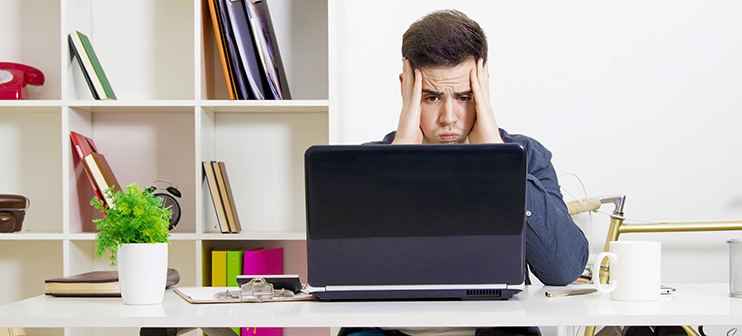 If we've heard it once, we've heard it hundreds of times. Our managed IT services clients wonder how they ever got by before their Invision IT consultant came along. Well, we know exactly how they did it. Humans adapt. Combine that with not knowing what you don't know and it's easy to see how so many businesses get by for so long without outsourced IT support from somewhere like this Managed IT Support company. For example, you don't know your network is slow because it's always been that way. Plus, you don't know how other company's networks perform.
Do you want to get by or thrive? Getting by is the status quo. Thriving is growth. Unfortunately for many businesses, it's their technology that is holding them back from hitting that next level. Other times, it's a matter of not having the right people in place to manage IT services. The time will come when your business' IT support needs surpass what your friend, family member or employee who's "good at computers" can manage. The key is to recognize that moment before it adversely affects your company's growth and profitability.
Hiring an Outsourced IT Consultant Has Immediate Benefits
Immediate Response
When you're relying on an employee, a friend or family member to help with IT support, you're working on their timeline. Friends and family have other responsibilities, and employees have their regular workload. With information technology support services, you get a dedicated IT consultant whose job and main concern is keeping your system up and running efficiently. You are your consultant's first priority, not a doctor's appointment, a baseball game or another project. If you're working with an IT consultant who doesn't treat you like a priority, it's time to find someone else to work with.
More Brain Power and Different Schools of Thought
When it comes to outsourced IT support, businesses have plenty of highly skilled talent from which to choose. Managed IT services work best when the IT consultant providing them has experience with several different hardware and software programs. It's very rare for an IT consultant with broad expertise to not at least be familiar with any issue you're having. Even better, chances are that the consultant has solved the same or similar issue for another managed IT services client (be it https://www.mirantis.com/software/docker/docker-enterprise/ or any other out there). Relying on your employee "who's good with computers" doesn't always give you the benefit of a broad knowledge base. Your person might be used to your system, and your past system issues only.
On the rare occasion, an Invision IT consultant doesn't have the immediate answer, what he does have is the rest of our team to use for reference and bouncing ideas. It never hurts to have another pair of eyes look at a problem or project and offer input on an efficient and effective solution.
Security That Lets You Sleep Better at Night
If you're not concerned with security, you absolutely should be even if you don't think you store any information or data of value. It is valuable to someone. And, hackers label smaller businesses as better targets than larger businesses. Why? Small companies are less likely to invest continually and heavily in network security. Perhaps it's a matter of fewer resources. Maybe it's a case of being unable to keep up with the security risks that change daily. After all, people have businesses to run.
When it comes to our outsourced IT support services, the weight of keeping your network secure is lifted.
Make Faster and Wiser Decisions on New Technology Implementation
Technology changes faster today than it used to. It used to be that a company could trot along using the same technology for years. That's no longer the case. Technology is often what businesses use to gain a competitive advantage or overcome stagnate sales growth.
Invision's IT consultants invest time in learning your business. You may not be aware of a new technology that would work beautifully in your industry or situation, but your IT consultant might have a perfect recommendation. We're out there. We're working with businesses every day. We know what works and what doesn't. Call us to set up an appointment to talk to our specialists and see how we can help make your business smarter. After all, we're business owners too and understand how important IT is to growing a successful and profitable company.
Related Posts via Categories