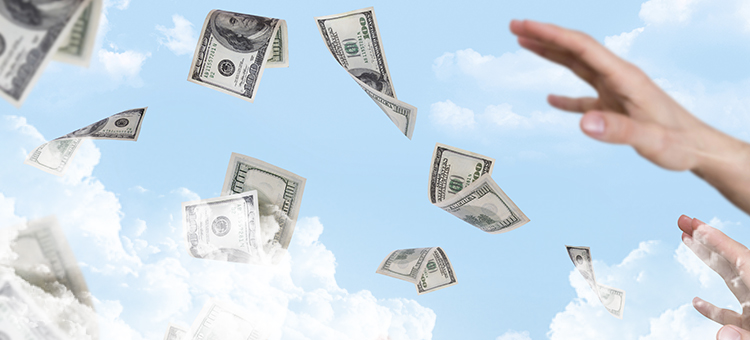 The hidden costs of cloud-based IT service for businesses
Cloud here. Cloud there. Cloud everywhere. As a Kansas City IT company, we're seeing (and facilitating) a lot of our clients moving technology services to the cloud. Cloud-based solutions allow them to access and use shared resources, software and information via their computers and other devices over a network. Nothing has to be stored locally. Risks are minimized.
Since the cloud is a service (like phone and Internet connections), companies must choose a cloud-based technology service provider. We're noticing that many of these providers seem to be basing their sales approach on time-sensitive promotional periods. There are a lot of "first month free" and "reduced starter rate" offers going around. Then once the businesses are hooked-up and need the cloud every day to function, the price goes up – immediately after the trial phase is over.
Even though competition is healthy among providers, prices are increasing across the board. And no provider is handing out huge discounts. If one raises their prices, the others soon follow suit. After all, the cloud is becoming mandatory in today's business environment and you've got to get your service somewhere. This is why companies like Superhub, are rapidly growing in popularity. Before choosing a cloud-based technology services provider, you need to know the hidden financial and productivity costs associated with their service.
Can your business go on as usual without your cloud service provider?
In a sense, the provider becomes one of your most important employees. No work is getting done without them. Have you ever had let a key employee go? If so, you know that productivity can suffer until someone else is in place, which can take a while. Similarly, if you move your data/service from an old cloud service provider to a new one, there is a period of transition that can impact your productivity.
Some companies will stay with their current service provider rather than struggle through a difficult transition. The reasoning is that it's just too difficult, time consuming and expensive to make a change.
Cloud providers offer lots of ways to transfer your service to their system, but they don't make it so easy to leave. When choosing your provider, make sure you don't get stuck in a bad relationship. Evaluate your options should you decide to terminate your current contract and switch providers in the future.
Will your provider slow down business?
Your access to the cloud is only as fast as your Internet service. Some organizations find that their internet provider's speed isn't fast enough to support some cloud-based initiatives. Unfortunately, this is discovered only after they've entered into a contract with a new company. The only solution is to upgrade to faster, more expensive internet service just to access data. The alternative is having employees watch progress bars spin around all day, which cripples productivity in more ways than one. If your speed is particularly low, then you may want to look at these https://att-bundles.com/ deals for a provider who can offer higher speeds.
No Internet, no cloud.
Without Internet, there's no cloud access. Without cloud access, there's no data, programs or resources available. And that means no work getting done. Until Internet access can be delivered via the cloud, you're going to be "down" when Johnny Backhoe cuts through the cable or phone lines while digging around.
Have a clear understanding of the cloud's advantages and disadvantages so that your business isn't left in a bind. There are hidden costs associated with lost productivity and revenue should you need to change cloud service or Internet providers or experience an outage that's out of your control.
When your business is in the cloud, just remember to keep your feet on the ground. If the potential cost of cloud based IT service is too high, there are always alternatives. With that said, we specialize in IT consulting, and can help you decide which one best suits your business and needs.
Related Posts via Categories