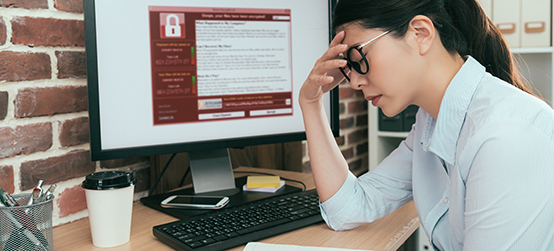 Invision Kansas City Helps Small Businesses Recover from Malware Disguised as Software Updates 
Software makes the business world go around, and one of business owners' biggest fears is that their software goes out of date and negatively impacts their operations. Hackers are successful because they play upon those fears and use tactics to exploit them. Fear is human vulnerability. Fear regarding keeping software up to date is a serious business security vulnerability. Hackers send fake software updates in various ways, including emails, pop-up windows, display ads and such. They look legit, so users download them. However, rather than updating their software, they're installing malware on their systems. Usually, the malware's damage is done by the time they realize something is wrong and IT support is needed.
How Much Damage Can Malware Do?
A lot. Cybercriminals can use fake software updates to install malware that infiltrates your network. The malware acts as an opening for hackers to gain access to servers. From there, they can install keyloggers to track every key stroke, which means usernames and passwords are compromised. Taken to the extreme, hackers can access millions of networks and servers worldwide, as they've been reported to do.
The catch-22 is that the very software updates that are designed to protect your business (and the world) from cyberattacks are the very tools hackers use to compromise your data.
Spotting a Fake Software Update is Hard
Even the most savvy and self-aware users can be fooled into downloading a fake software update. Hackers have become incredibly sophisticated not only in what their malware can do, but also in the design and look of its delivery.
Fake software updates are sent via emails, pop-up window notifications, and even digital ads on the web. Never, ever download anything, software update or not, from a digital ad on a website. An obvious one that most of us have experienced is the digital ad claiming a program can diagnose why your computer is running slowly. Those are easy to avoid. Just don't click on them.
The emails and pop-up windows are trickier because they look so legitimate. They are often branded with the same logos and color schemes of the software company. They often include a very close URL or email address to the real software company's URL or address. For example, the email address from which you receive the fake software update link is just a few letters plus or minus from the real company's email address. Users falsely believe that they wouldn't be receiving these notifications from the software company unless the company knew they were using them. Hackers merely are casting a wide net. If they send out enough of these notifications, they will reach a large enough number of people who use a certain software to make it worth their while.
Not Falling for a Fake Software Update is Easy
If everyone turned off their automatic software updates, the world would be a safer place. (Not to mention IT support companies would lose out on business.) If that was going to happen, it would've happened by now. So, the next best and easiest way to avoid installing fake software updates is to change your software update settings from automatic to being notified when one is available.
When a software update notification is received, don't click on the link included in the email or pop-up window. Instead, go to the software company's official website. The latest updates can be found, downloaded and installed from there completely avoiding the risk of installing malware disguised as a software update.
If you're looking for an IT support company in the greater Kansas City area, turn to the pros at Invision. The local IT solutions provider and anti-malware crusader you need is right down the street.
Related Posts via Categories