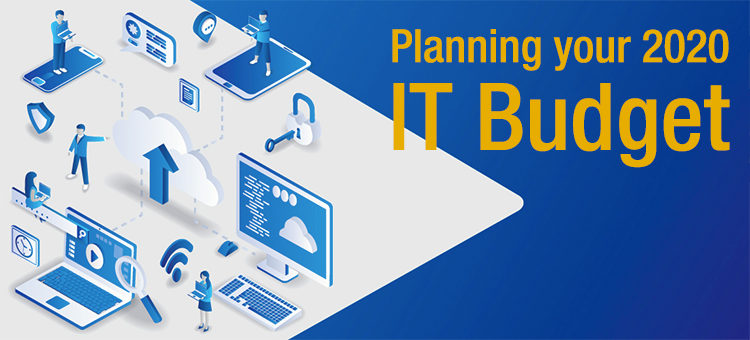 written by Tim Blakley, Invision Partner
Invision Kansas City technicians have been fielding questions from business owners on topics ranging from security updates to hardware and software upgrades in preparation for finalizing IT support and IT consulting budgets. With IT playing a larger role in business operations, IT is becoming a larger line item every year. And with that bigger investment comes expectations for a bigger return on investment.
No business is alike, however, you might find it helpful to compare your 2020 budget for IT support and IT consulting to others. If nothing else, doing so might remind you of a piece you forgot or help you realign your budget to better match your goals.
On average, business owners allocate 4-6 percent of their total revenue on IT. Perhaps surprisingly, businesses tend to spend more because as a company grows so does the IT budget, which results in better IT systems that are more easily scaled and supported. Of course, businesses in technology-heavy industries like healthcare and banking spend more on IT than those whose businesses are less technology dependent.
Take Inventory of Your Hardware and Software 
Start by taking inventory of your hardware and software. The more you have, the more money you will spend on IT support and IT consulting. Plus, the older your hardware and software, the more it costs to keep both in working order, especially hardware. Computers, monitors, printers and such are machines, and as such, they tend to have more issues the older they get.
Network services, data connections, and hardware spending on routers, switches, servers etc. fall under your IT budget. If your business is growing quickly or evolving, then your network may need to be upgraded to meet your company's demands. Faster data connections and upgraded local networks or cloud-solutions may need to be factored into your IT budget for 2020.
A practice that is saving some business owners money is allowing employees to use their personal computers and devices rather than supplying them with company equipment, especially if much of their jobs are performed in cloud-based solutions.
When can you expect (approximately) to replace your IT hardware? Rules of thumb are:
Servers every 5 years
Workstations and laptops every 5 years, depending on use, wear and tear
Printers and monitors when they stop functioning or you want access to newer features
As your software ages, it becomes less compatible with newer programs that you implement and security patches issued by developers become more important to download. At least annually, it's a good idea to evaluate your software and how it helps your business, along with other options that could be more affordable after you add up licensing costs, cloud-based options and other expenses.
Invest in Proactive Security Solutions
Security is the fastest growing line item in many IT budgets as more business owners either become victims of an attack or hear first-hand horror stories from others who've experienced a security nightmare. Hackers and their malware and phishing schemes are only becoming more sophisticated, which means it's not a matter of if, but when your business will be a victim.
Therefore, security should be a major component of your 2020 IT budget. Antivirus solutions, network security hardware, and IT support and IT consulting services are becoming increasingly important. A malware infection or major data breach could be catastrophic for your company's operations, finances and reputation.
READ: Can You Tell the Difference Between Fake and Legitimate Software Updates?
Invision's IT Consulting Can Help with Smart IT Budget Planning for 2020
Consider your IT budget as an investment rather than an expense. Technology facilitates business, and smarter spending on software, hardware, and IT support could mean your company improves service and grows revenue. Investing in more efficient solutions may result in a higher IT budget for 2020, but could be offset by lower IT support costs and potential sales growth and staff productivity.
It's difficult budgeting accurately for IT expenses thanks to the variables unknown. Get expert advice to develop the most efficient and flexible 2020 IT budget.
Related Posts via Categories